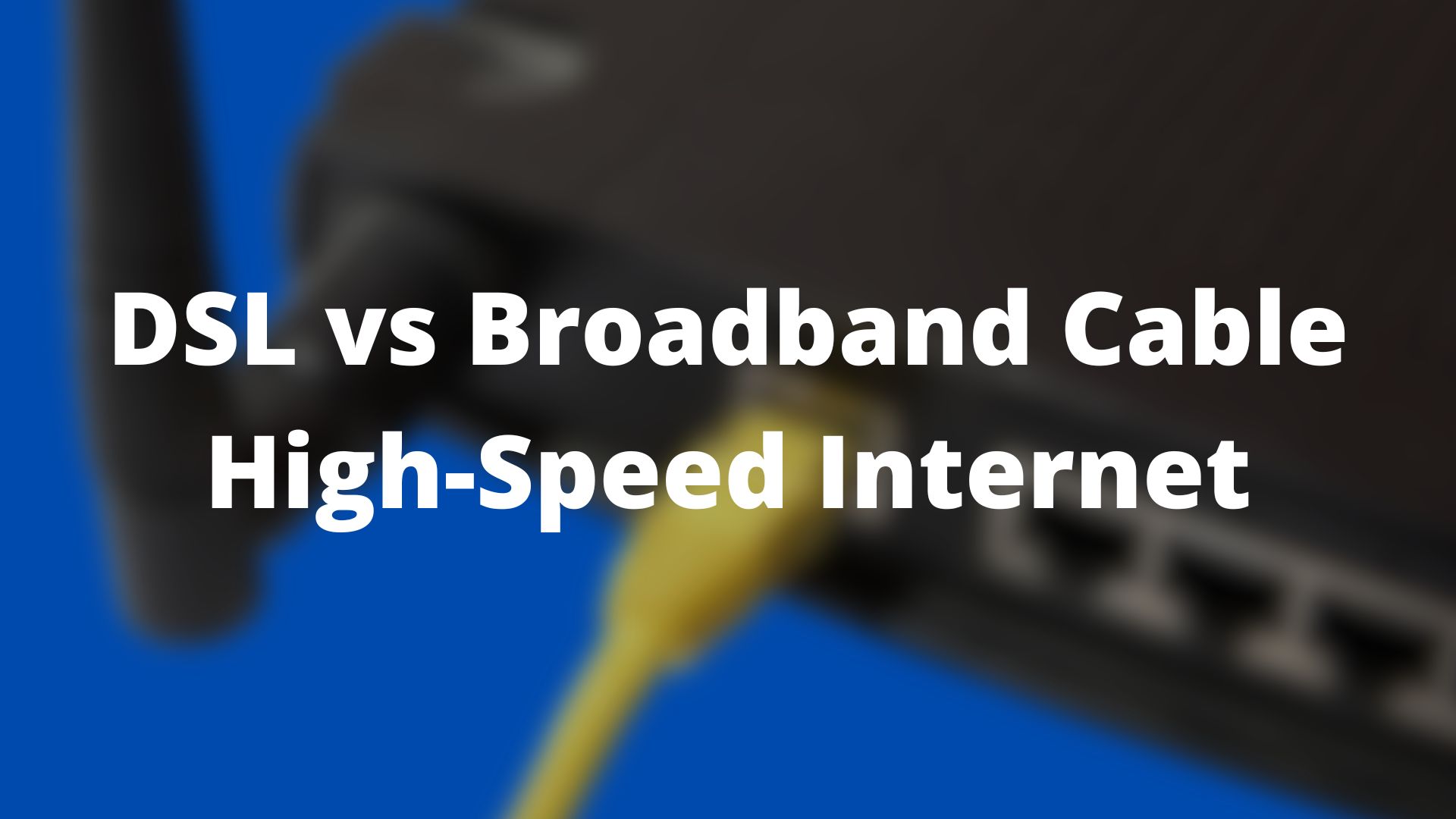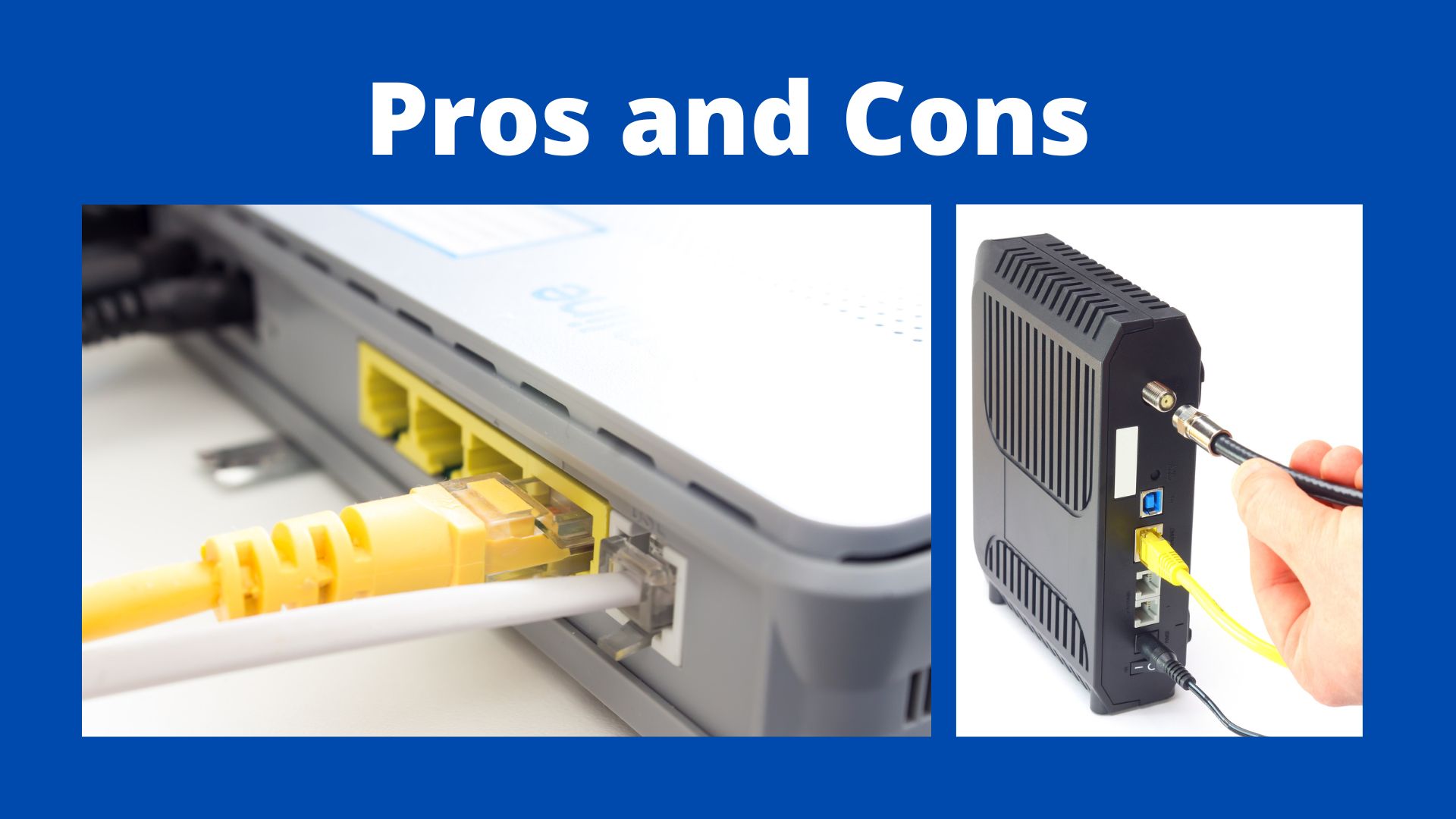 DSL and Broadband cable internet are both popular and reliable services that can provide greater speeds than dial-up modems. At RB's Computer Service, we recognize most internet users younger than 50 years old don't know what "dial-up" is. In layman's terms, DSL is an upgraded dial-up using phone lines whereas Broadband internet uses cable lines. Both DSL and Broadband offer a range of advantages and disadvantages which we'll explore in this blog to help you decide which is best for you. Although most internet users in the US can choose one or the other, in some rural areas there is only one choice, and sometimes no choice at all. We'll wrap up this blog to explore other internet providers one can look at for high-speed internet access in those areas.
General Comparison of Broadband Cable and DSL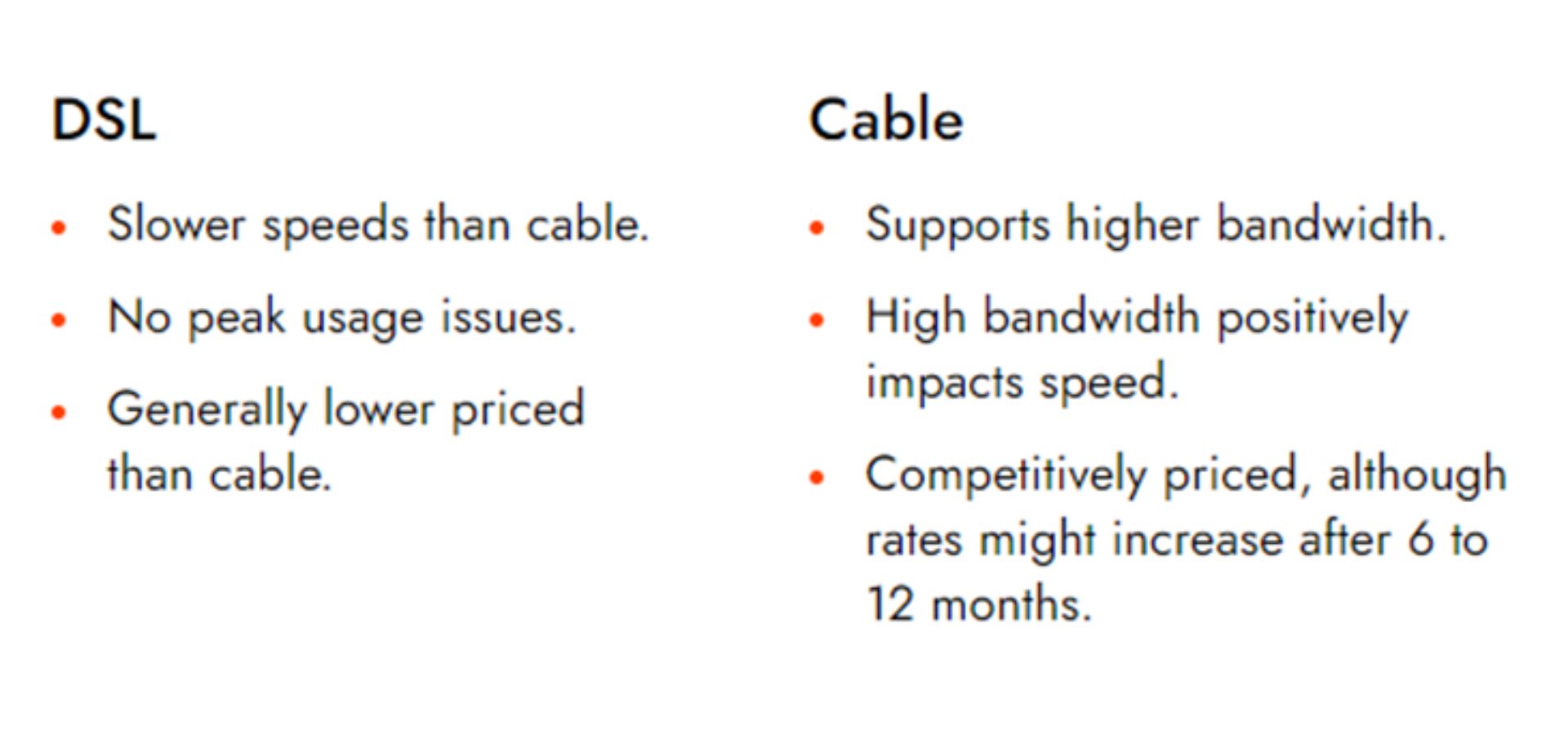 High-speed internet via Broadband cable and DSL are both offered throughout the US, though in some places, only one is available. The maximum speed DSL can accomplish is usually lower than 100 Mbps. In certain regions, cable technology provides a bandwidth of up to 1000 Mbps (with a few reaching 2000 Mbps).
DSL Pros and Cons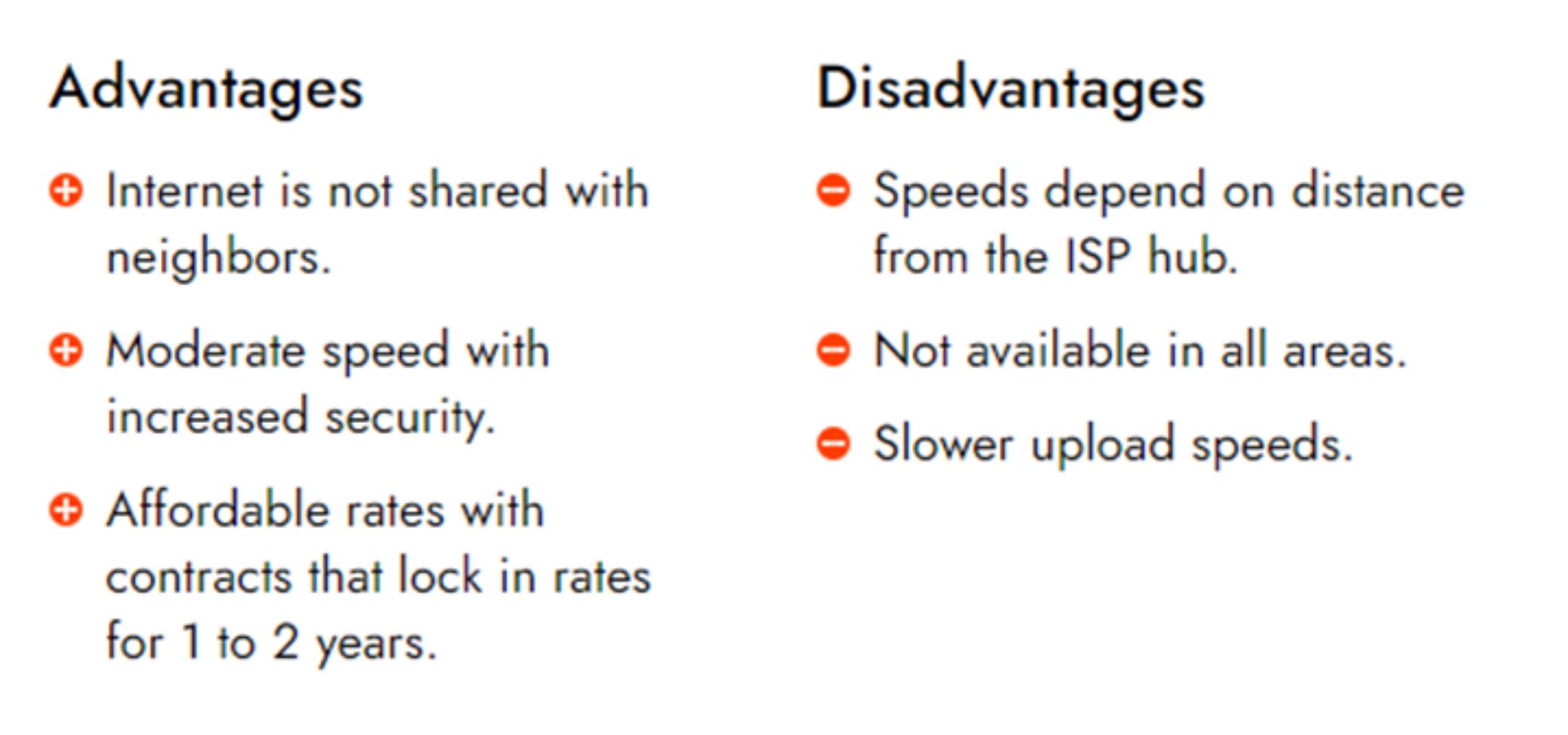 In practice, cable modem services don't live up to the theoretical speeds they promise. Speed sometimes decreases when too many people in the same service area are on the internet at the same time. Compared to DSL, this is a bigger issue.
Cable Pro and Cons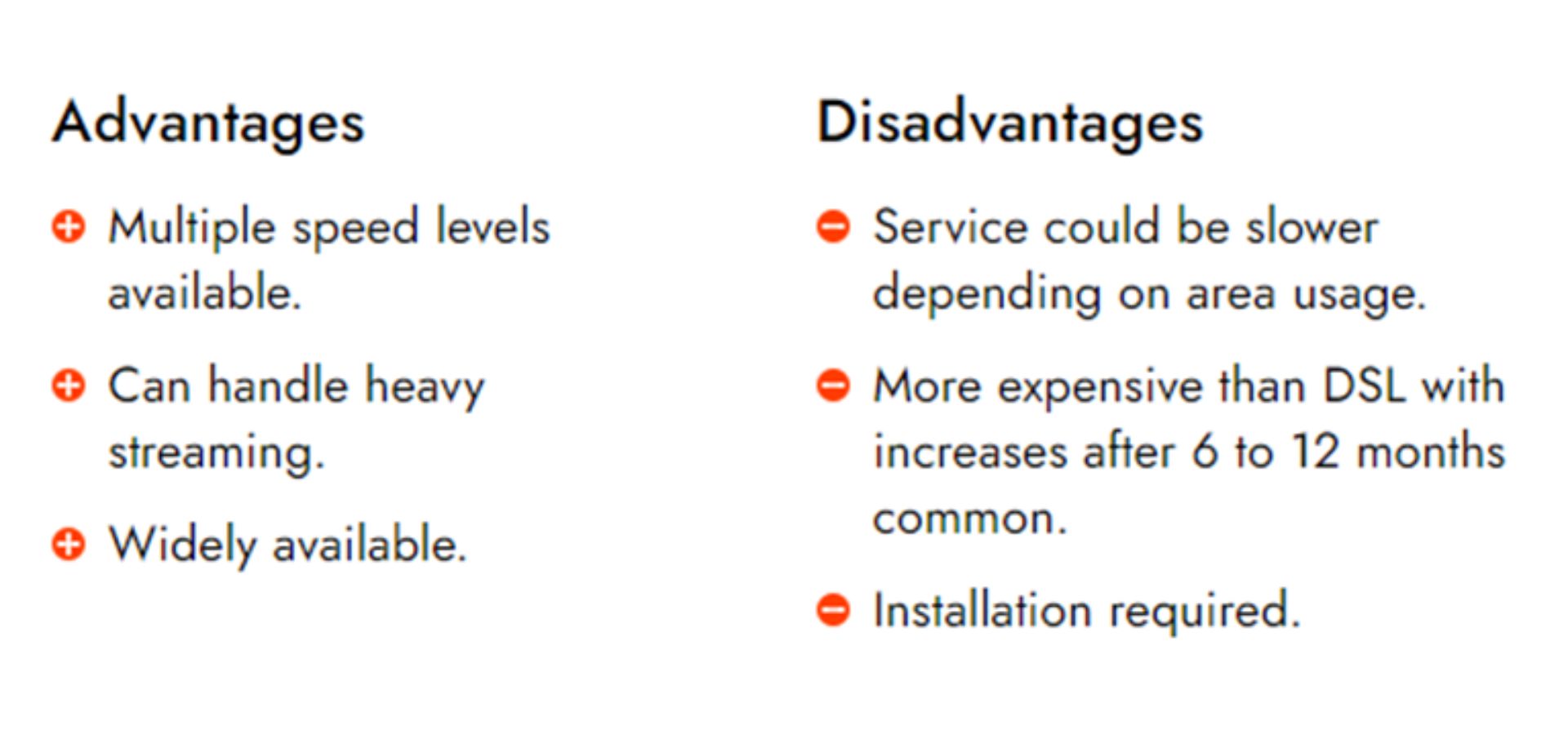 Cable internet services usually have higher bandwidth than DSL, which in turn roughly translates to greater speed. Nevertheless, business usage requiring a high amount of bandwidth and technical issues might reduce or even nullify the speed advantage of cable.
Both cable modems and DSLs have varying performance levels which can alter at any moment, depending on what is taking place on the web and the type of internet traffic that is at play.
At times, DSL and cable internet suppliers may put a limit on their services' bandwidth by imposing a speed cap.
Bottom Line
When looking to purchase a new internet service, inquire about the speed and bandwidth limits. You'll likely find that the company provides a few plans, with higher prices corresponding to faster connection speeds.
When deciding about your internet, three main aspects should be taken into consideration:
• Your budget.
• Choices of internet service providers.
• And how you want to use the internet at home or your business.
If you have many people in your household or employees in the office who regularly watch on-demand television, or upload and download large data files, pictures, or videos, the least expensive package won't be enough. Likely, you'll need the max speed offered. Conversely, if you only need access to the web for emails and occasionally to browse, the more affordable option should be sufficient.
It is recommended that for streaming movies with high-quality video and audio, you may need a Broadband cable connection that offers a download speed of at least 5 Mbps (megabits per second). You may also need an upload speed of at least 1 Mbps for a smooth streaming experience. (Ask your provider about this).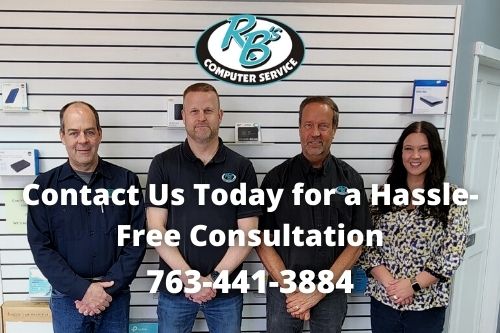 Netflix specifies that 5 Mbps is necessary to watch full HD content, and 25 Mbps is required for 4K Ultra HD. However, if multiple devices are connecting simultaneously, higher speeds are recommended. This rule applies to other streaming services and game-streaming services such as Twitch.
On the other hand, faster DSL plans can offer connections over 100 Mbps, which is plenty for most online activities, including video streaming. For context, streaming HD video requires about 5 Mbps per device, 4K video requires about 25 Mbps per device, and playing games on an Xbox One requires 2 Mbps. The key with DSL is to find a provider that offers the max speeds. However, for some people, faster DSL speeds are not available in their area, nor is faster Broadband cable.
What Can I Do if I Don't Have Access to Broadband Cable or DSL?
RB's Computer Service is aware of one area locally that lacks access to reliable high-speed internet access. Geographically the area covers parts of Orrock, Big Lake, and Becker. One new high-speed internet provider serving customers in that area is called SkyNet Broadband, Inc. They use radio towers to deliver a high-speed internet signal to their customer's modem. They offer "package combinations of 100 MBPS." Other options to consider include:
T-Mobile. High-speed 5G home internet.
Verizon. High-speed 5G home internet.
Satellite High-speed Internet
Hughes.Net®. High-speed 100 GB and 200 GB Plans
If you don't have access to cable or DSL, there are more choices than the ones highlighted above. Regardless of which one you decide to use or consider using, keep your budget in mind and how you want to use the internet at home or at your business.
What if I Have the Max High-Speed Internet, but it is Still Slow?
Sometimes, slow internet speed has nothing to do with the plan you have from your internet provider. It could be related to your modem or operating system. With your modem, it might not be capable of carrying the load of traffic you are running through it with high-speed internet. You might need to upgrade to a commercial-grade router or adjust the settings. Alternatively, if you are running an operating system older than Windows 10, this could be the reason for sluggish performance. If this sounds like your situation, it is not only frustrating but could lead to a cyber-attack. If you ruled out your internet service provider as the cause for slow internet, don't hesitate to contact RB's Computer Service today via email at help@rbsmn.com or call us at 763-441-3884. We would be glad to help.
In addition to troubleshooting computer issues, RB's Computer Service provides affordable Managed IT Service Agreements, and ransomware strategies and sells the best commercial-grade firewall routers, best laptop computers, best desktop computers, business computers, computer parts, and computer monitors. We also provide computer repair, iPhone and smartphone repair, and tablet repairs to customers and clients throughout central Minnesota and St. Cloud.
References
Kristin Cooke and Peter Holslin. HighSpeedInternet.com. DSL vs. Cable: Which Is Right for You?, March 30th, 2023, https://www.highspeedinternet.com/resources/dsl-vs-cable
Anthony Spadafora. Tom's Guide. What internet speed do I need? Here's how many Mbps is enough, April 3rd, 2023, https://www.tomsguide.com/us/internet-speed-what-you-need,news-24289.html
Bradley Mitchell. Lifewire. DSL vs. Cable, October 16th, 2021, https://www.lifewire.com/dsl-vs-cable-broadband-internet-speed-comparison-817539