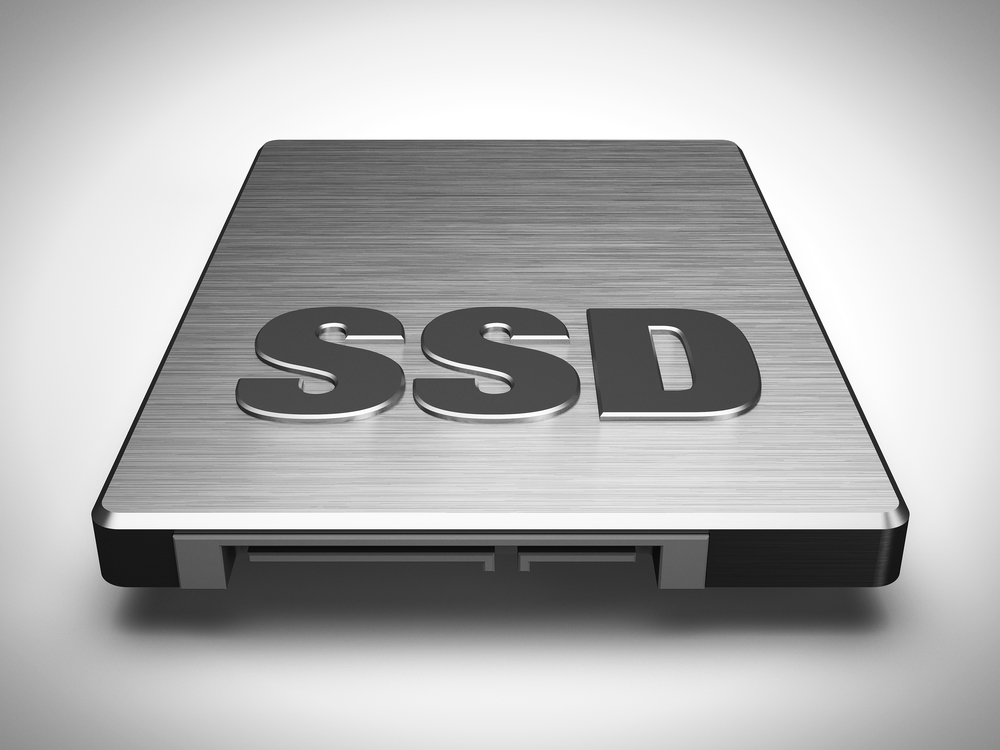 Solid-state drive (SSD) installation has grown more popular in the "Want It Now" age. The super-portable form factor has revolutionized expandable storage. It also makes it easier for users to boot up without having to wait a century for everything to load! If you've decided on an SSD for your next device, we can't blame you. There are a lot of benefits to it. We're about to launch into what those benefits are. But first, it helps to understand more about the SSD and its alternative.
What Is a Solid State Drive? The SSD as we know it today launched in 1991, thanks to California-based StorageTek. But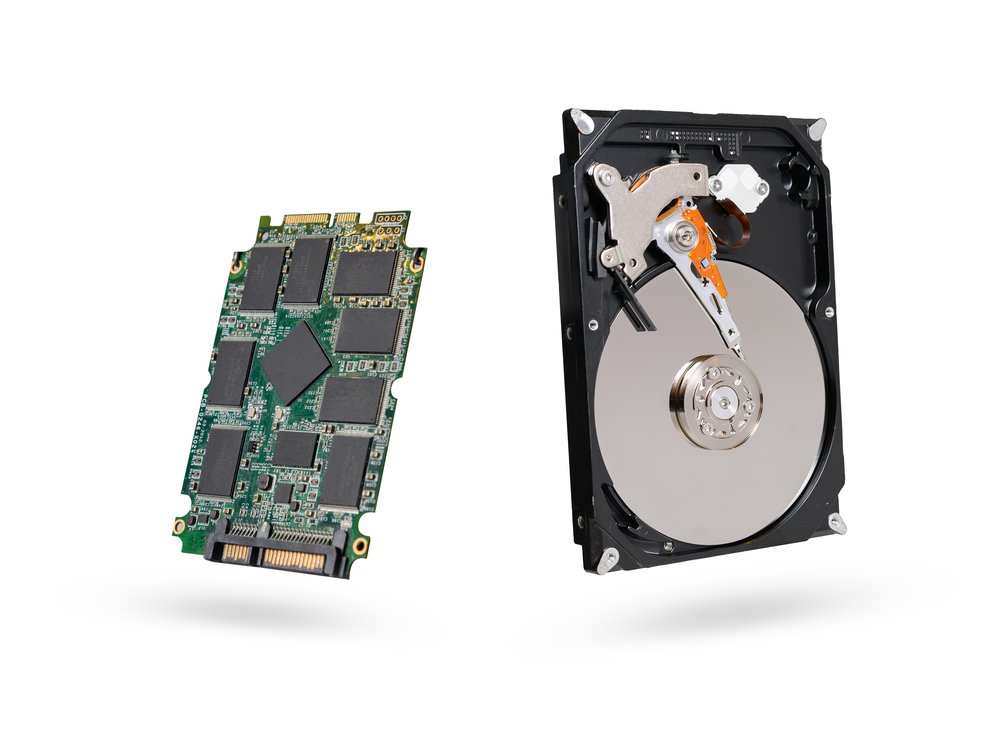 SSD's have no moving parts. dating back to 1978 (Storage Search, Who's Who in SSDs and Storage? circa 2004, http://www.storagesearch.com/storagetek.html). SSD was crafted as a faster and more portable alternative to the hard-disk drive (HDD). Today, it gives users more flexibility with their storage capacity and gets away from the use of moving parts, such as cooling fans continuously blowing to keep it from overheating. Before SSD Prior to the proliferation of SSD, the hard-disk drive (HDD) was the only show in town. It continues to be a popular hardware choice for its cost-effectiveness, the large amount of base storage, and endless read-write cycles. The majority of hard drives can last for six years of use (Sebastian Anthony, Extreme Tech, How Long Do Hard Drives Actually Live For?, November 12th, 2013, https://www.extremetech.com/computing/170748-how-long-do-hard-drives-actually-live-for). However, they have quite a few weak points where SSD has been able to capitalize on. SSD vs HDD The debate of a solid state drive vs. a hard drive is pretty much over. SSD appears to have won as more devices (i.e., smartphones, tablets, laptops, and even desktop computers) moved to offering solid state storage over large HDDs that add to bulk while slowing down overall operations. SSD has both pros and cons. But ultimately, the positives outweigh the negatives. Before signing off, let's examine these benefits of SSD against its predecessor.
SSD has no moving parts so it can be dropped without damaging its functionality.
That same lack of moving parts results in noiseless function and low temperatures as opposed to HDD's being noisy and overheating.
SSD takes up less space than HDD thanks to it only carrying integrated circuits instead of bulky internal components.
SSD uses less energy than HDD, making it cheaper to operate and easier on the environment.
SSD reads and writes at faster speeds -- much faster -- than HDD meaning you can enjoy entertainment and/or save important files in moments instead of minutes.
]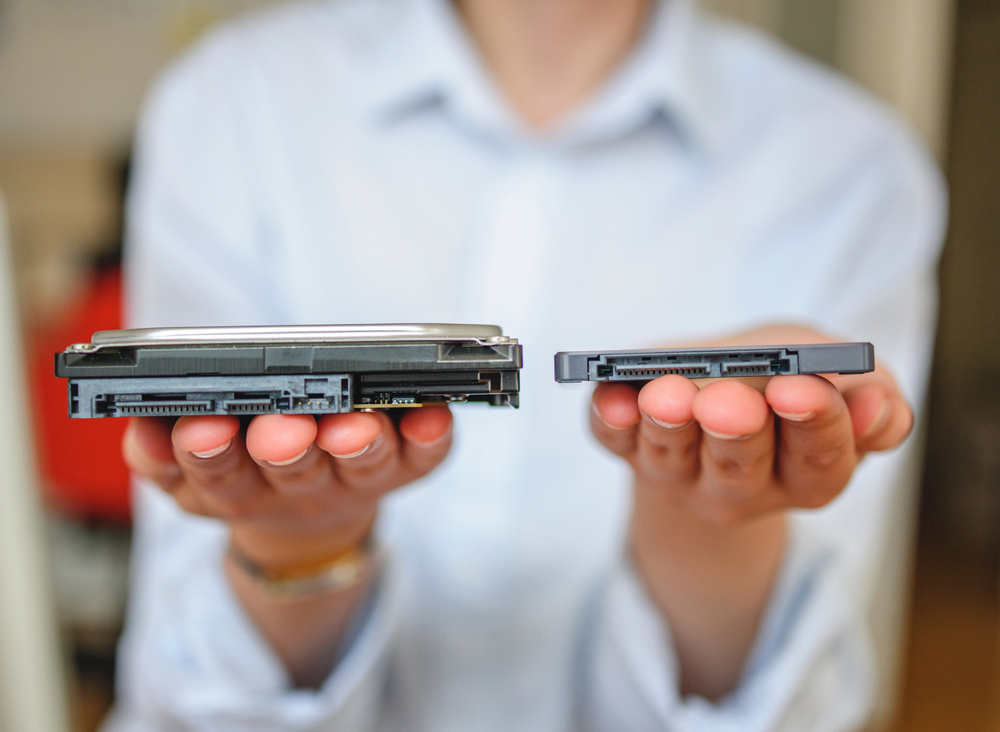 SSD's are smaller than HDD.[/caption] And yes, SSD is more limited than HDD in the number of overwrites it can provide. But high-end models can do 100,000 program-erase (PE) cycles while even low-end models can give you 3,000-5,000, which is more than a general user will ever need it as long as you order the SSD drive with enough capacity up-front. Too small of a drive results in those used cells being written over much more often resulting in an earlier death of the drive. Spend the additional money and get a drive that at least doubles the space you currently are using and if you can afford it, go larger yet. Lastly, do not buy the cheapest SSD drive you can find for your computers. A cheap SSD drive will likely be slower and may even fail earlier than a mid-level drive. When that happens, the likelihood of getting that data back on an SSD drive with cheap parts will be limited at best. This is why RB's Computer Service recommends a backup solution for all users who are concerned with what happens to those precious memories and data files when the unexpected happens.
Ready for a Solid State Drive Installation?
For help with your solid state drive installation, or if you have questions, contact us today via phone or email: 763-441-3884 or at help@rbsmn.com. In addition to providing computer and data security protection and solutions, RB's Computer Service offers Ransomware strategies. We also sell the best commercial grade firewall routers, best laptop computers, best desktop computers, business computers, computer parts, and computer monitors. We provide services for computer repair, iPhone and smartphone repair, and tablet repairs to customers and clients throughout central Minnesota and St. Cloud.